The holidays are filled with fun occasions and get-togethers – perfect for showing off your personal style. Whether you're heading to a fun and quirky party with your friends, a swanky holiday dinner party, a quaint family gathering, or ringing in the New Year, we've got the holiday party outfit ideas to ensure that you always look the part.
Quirky Holiday Party
Whether a costume party or an ugly sweater soiree, coming up with the perfect ensemble is easier than you think. You can head to your local consignment store for a plain green, white, or red sweater (think something you could wear again), and break out the holiday pins, ornaments, and doilies! From whipping up a Santa sweater to turning yourself into a Christmas tree, you can easily go all out while investing in a wardrobe staple! Check out these examples for inspiration: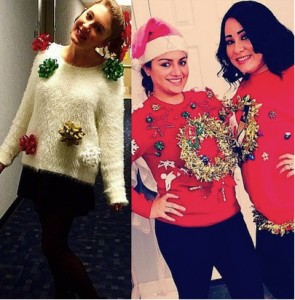 Fancy Dinner Party
The holidays are the perfect time to break out the LBD – or little red dress. Whether short-sleeved or long; maxi, midi, or mini, these occasions are the time to find an absolutely timeless dress, and put it to work. Complete the look with closed-toe pumps and statement earrings for an outfit that is sure to wow.
Low-Key Family Gathering
When you're with family, comfort is a big deal, but you don't want to look slovenly when you see some cousins you only see twice a year. For these get-togethers you can elevate your laid-back look with a chunky cable-knit sweater or a loose top with sheen or sparkle to add an eye-catching element. Pair either with dark jeans and boots and you've got yourself a comfortable, stylish look.
New Years Eve Celebration
Turn up the glam! This is the time to sport metallics – whether with a bold statement dress, skirt, or shirt; or with more subtle touches like glitter tights, jewelry, bold shoes, or a fun bag. Headbands are also a fun way to add glamour to your look.