Valentine's Day is a notoriously fun and flirty holiday on which we celebrate our love for our significant others, our friends, or anyone really. Though some might refer to February 14th as Singles Awareness Day, we'd rather focus on spreading the love, regardless of your relationship status. Whether you've got a hot date, a fun party, or simply want to make a celebratory statement with your clothing, we've put together some fun, sexy, and cute Valentine's Day outfits that you're sure to love!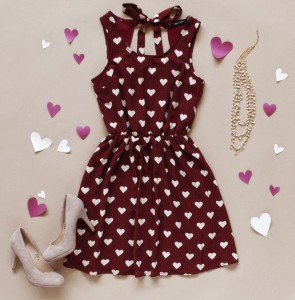 ---
Up The Cuteness Factor
Nothing says adorable like this printed mini dress on the left! Even if you don't happen to own this exact dress, this outfit, with its fun necklace and subtle shoes, gives you a spectacular guideline for crafting your own ensemble. Aim for red or pink tones, but try to avoid fire engine red, choosing a burgundy or a light pink will keep your look soft and fun.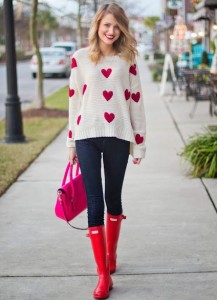 ---
Keeping Things Casual
Plan on having a laidback February 14th? You can keep it causal while still emanating that Valentine's Day vibe by simply incorporating splashes of color and (of course) hearts! From rocking a red sweater, jeans, and red flats to recreating the outfit above, you can make quite a statement without having to get all "done up".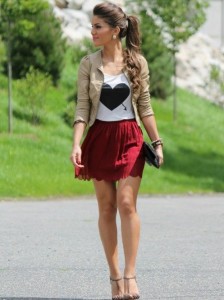 ---
Add Some Sass
Well hello there, hot mama! You can make a sassy, spunky statement this Valentine's Day with the help of the right styling. This shirt and skirt combination could have been featured in the "Cute" category, but with the addition of a fun, structured jacket, chunky earrings and bracelets, and an awesome black leather clutch, it's been taken up a notch. Plus, the high pompadour ponytail completes the look seamlessly.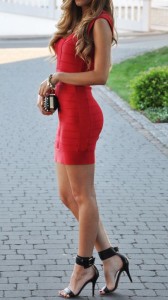 ---
Make Jaws Drop
Looking forward to a hot date this Valentine's Day? You'll be sweeping his jaw off the floor when you pull out your favorite little red dress. Paired with your favorite black heels and clutch, this outfit is guaranteed to wow. If you don't have a little red dress, and haven't had luck finding one, never fear. Invert the colors of the dress and the accessories and you've got yourself a classic, sexy statement – because who doesn't love a little black dress? Whether your favorite fit is a tight silhouette, or a completely different cut, this outfit is as sexy as you want it to be, because let's be honest, how you feel about your outfit is what matters most – your sweetheart will be ecstatic no matter what outfit you wear!