If you work from home, putting some effort into your work space is important for your productivity and peace of mind. Since we spend a large portion of our lives working, you deserve a home office makeover that is customized to your needs.
Adding a personal touch will let you feel at ease while you work, but many people worry about the best way to add a splash of personality without sacrificing organizational needs. We can help. Whether you are looking to revamp your current home office or are starting from scratch, here are a few unique home office ideas to create the workspace you need to get the job done.
Declutter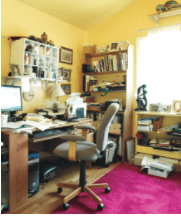 Working from home can result in more clutter than you would expect, mainly due to the fact that you're combining your personal space with your work space. Sort through the items that may be bringing your productivity down. This could include excessive electronics, an abundance of furniture, or a large amount of files that could be put into storage or filed electronically. (Going paperless is a good solution to this issue and will allow for a more organized space.)
A tidy workspace is the first step to reducing your stress level. Keeping your space free of clutter will keep your mind free of clutter as well, resulting in increased efficiency.
Organization
Once you've sorted and purged the non-essentials, organizing your space is the next step. Every home office should be organized according to your unique needs, and you'll be shocked to find out how much space you have after you get rid of everything you don't need.
To optimize your space and improve organizational systems, consider investing in such items as:
File cabinets
Shelves/bookshelves
A long, wide desk for additional work space and storage
A whiteboard or tack board for ideas, to-do lists, etc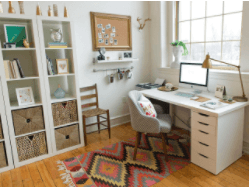 Invest in the items that will help you the most every day. Next, consolidate all of your cords, power strips, and wires and keep them out of sight.
Add Your Personality
Once you have the items you need to keep your space neat and tidy, it's time to add some flare! Add some luxury to your office with a stunning chair that will not only be aesthetically pleasing, but will keep you comfortable while you work. Or maybe get a funky lamp that will brighten up your space, amp up the style in your office, and keep you from straining your eyes if you don't have access to natural light.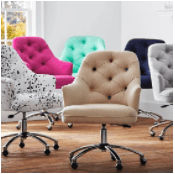 If your office consists of neutral colors, add a pop of color with an accent wall or some brightly-colored curtains. Don't be afraid to add some additional decorations like paintings, prints, sculptures, or bookends to create a space that reflects your personality.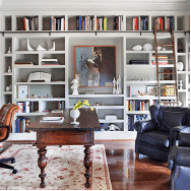 What office is complete without a plant? Add a bit of greenery to keep your working space feeling fresh.
Revamping your home office for both comfort and style will give you the proper boost to push your business forward and keep you happy while you work. For all the items you need to make your home office the ideal working space, stop by your local Turn Style. We have everything you need at prices that keep your bottom line in mind!