BOO! Halloween is right around the corner, and there's nothing better than being the most festive house on the block. But that doesn't mean you need to stock up on expensive decorations from your local party supplies store. There are plenty of DIY Halloween decoration ideas that you can make right at home without stretching your budget.
Scarecrow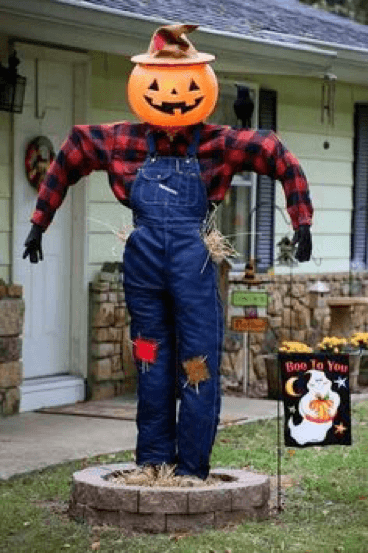 A scarecrow can easily be constructed from items found around the house. Whether you want to make it spooky or friendly, this is all you need:
A few pieces of lumber (old broomsticks work well) to fit the size and length you desire
Wood glue or fasteners
Paint
Any accessories you may desire: hat, scarf, coat, gloves etc.
Place your lumber in a cross formation to form the body and secure with wood glue or fasteners. Use a pumpkin or a stuffed pillowcase for the head and paint on a face. Add any accessories you want to make your scarecrow your own! Prop your scarecrow up against a tree or your front porch and enjoy!
Ghosts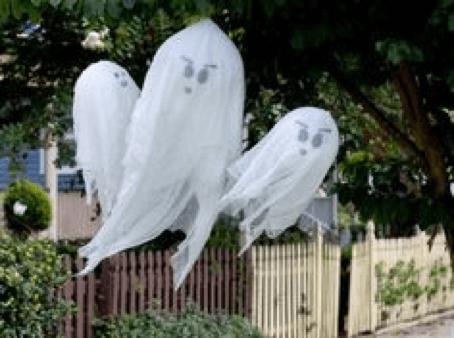 Add spooktacular flying ghosts to your trees with a few items in your junk drawer. What you'll need:
Balloons
White gauze/extra fabric/bedsheets
Black duct tape/black permanent marker
String
Simply inflate the balloons and place whatever fabric you have on hand over the balloon. Use the black duct tape or permanent marker to make the face, attach the string through the top of the fabric, and voilá! You have a team of spooky fellows to haunt your front yard.
Lanterns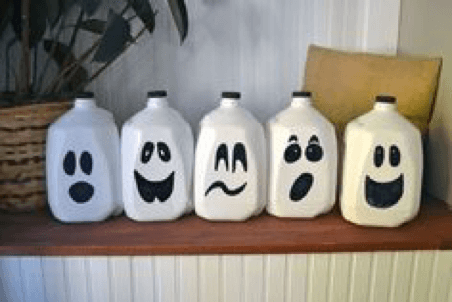 Light up the path for trick-or-treaters with a few homemade lanterns for your porch or walkway. You'll need:
Plastic gallon milk jugs
Paint
Sharpies
Holiday lights
Cut holes on either side of each jug to string the lights through, and with your paint or sharpies you can decorate them however you like! Paint them white for a ghostly trail, or use orange for a few unique jack-o'-lanterns.
Mummy Front Door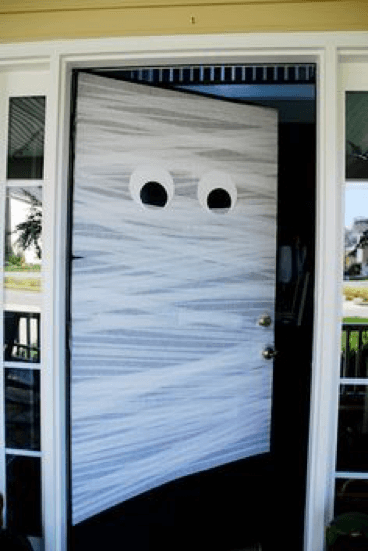 This handy trick will give your front door a ghoulish look, and it takes mere minutes! This is all you need:
White paper streamers
Black and white construction paper
Tape
Simply tape the streamers to your door in an overlapping fashion to make it look wrapped. Cut the black and white construction paper into circles (the white circles larger than the black ones) to make eyes, and tape them to the door.
Paper Bats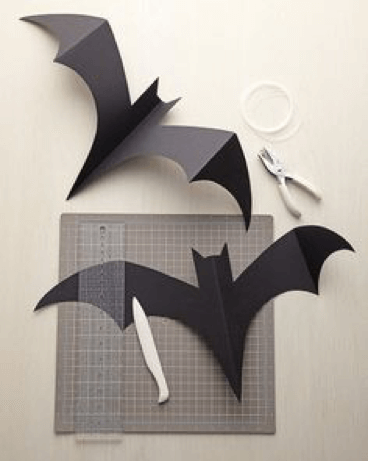 This is an easy decorating activity that the whole family can be involved in with just a few simple items! All you need for this fun and classic decoration is:
Black construction paper
Pencil
Tape or string
Trace a few bat designs on your construction paper, cut them out, and either tape them to the wall or hang them from your porch ceiling to create a cluster of spooky flying friends.
Deck out your home this year without stretching your purse strings. With these DIY Halloween decorating ideas, all the trick-or-treaters will be flocking to your front door.
For plenty of Halloween and fall decorations to add to your collection, stop by your local Turn Style and make your home the envy of your block!