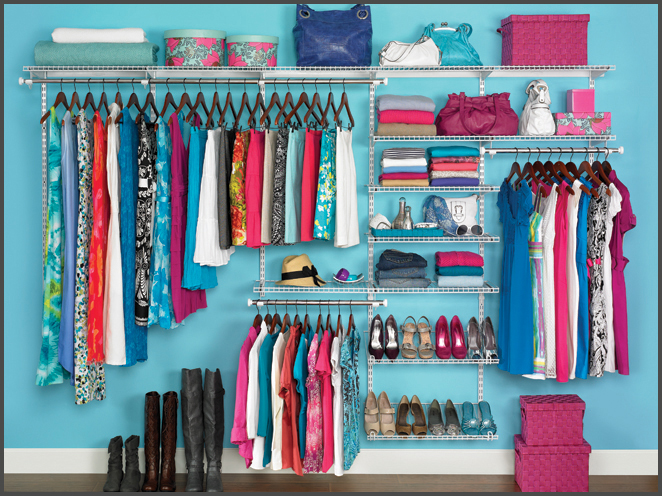 Let's be honest: Reorganizing your closet can be a mess. However, with the right steps you can make this essential storage space the perfect example of organized living that saves you time during your daily routine:
Step 1 – Remove and organize:
Yes, it sounds like a hassle, but for step 1 we're going to start from scratch. Begin by removing everything. For the sake of organization, we recommend that all item types get be removed and placed in the following piles:
– Clothes you wear often
– Items you utilize often
– Items you don't utilize often
– Clothes you still wear but infrequently (I.E. that dress you wore to your cousin's wedding reception last year)
– Clothes/items you no longer use (Make a rule for yourself. I.E. if you haven't worn it during the past year, you probably won't again. Also don't be afraid to try on clothes to determine whether or not items belong in this pile)
Step 2 – Bag up old items:
Out with the old to make space for the new! For step 2, we're going to bag up all those old clothes and items and prepare them for the future – whether you decide to pass them down to a friend/relative, donate them, or consign them to a store like Turn Style. This should give your closet a lot more breathing room.
Step 3 – Strategize & place items back in:
Reorganizing your closet is about a lot more than just getting rid of old stuff. It's also about strategizing how you're going to put things back in a way that makes the space more functional than it was before. Consider new measures, including the following:
– Hang clothes you wear often on one side of the closet and clothes you wear less frequently on the other side
– If need be, add organizers. For example, an over-the-door shoe organizer can save space for storing larger items and provide more leg room should you have a walk-in closet. Other ideas might include a belt rack, a scarf organizer, or a jewelry organizer
– If you must stack, place items in plastic storage bins – keeping less frequently used items on the bottom and more frequently used items on the top
 Conclusion
Having an organized closet makes finding the items you need a lot easier. By organizing, you're not only saving time, you're living a more functional life.