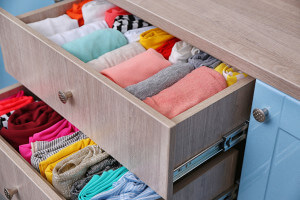 With a new year comes new goals, and is the perfect time to hit the reset button on many things in life, including your home's interior. While you might save most of the heavy lifting in terms of cleaning for springtime, there are some great organization tips you can utilize now to get a head start. Consider the following tips for spring-cleaning in the winter:
Go through your wardrobe
Decide what you still wear and what you probably won't wear ever again. Plan to donate what you no longer wear, or better yet, consign these clothing items at TurnStyle. If you're not exactly sure which items to part with, there's a great closet tip recommended by Apartment Therapy and others: Turn all your closet hangers to where the hook is facing out. When you place an item back after wearing it, put the hanger back the way it would ordinarily hang. After a 6-month period, take all the items where the hook is still facing out and get rid of them (you probably won't ever wear these items again).
Organize cabinets & drawers
You'll be surprised how many things you end up throwing in cabinets and drawers just to hide them from plain view – yet so often, these are items you'll never utilize again. Go through each cabinet and drawer to eliminate clutter. Throw things out you don't use and for the things you'll keep, reorganize them so that they're easier to find. Some suggested spaces: Kitchen cabinets and drawers, your mirror medicine cabinet, any other drawers/cabinets throughout your home.
Come up with a cleaning game plan
While you may indeed want to wait until actual springtime to do most of your cleaning, winter presents an opportune time to develop a game plan. For the coming months, set up a calendar/checklist of one heavy-duty cleaning task you'll take care of per month. For example, tasks such as deep cleaning your bathroom (tiles, sink, bathtub or shower), cleaning your floorboards, dusting your ceiling fans, etc.
By utilizing the aforementioned tips, you can get a great head start on spring-cleaning. Learn more about how you can consign clothing and household items you no longer use with TurnStyle.