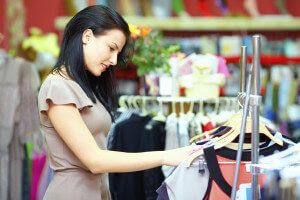 Matching the right dress with your body type isn't as easy as it may sound, but here are a few tips to help out!
You and your dress can be a match made in heaven. But just like with any article of clothing, it's also possible to become the victim of mismatching when trying to find the right one. It doesn't matter if you're tiny, curvy or full-figured, everyone can make the mistake of going with something that doesn't fit correctly. The consequences not only mean you'll be catching some extra glares when you're out and about, more importantly, you won't feel comfortable. To avoid such a dilemma, it's important to identify your body type and find the right dress that compliments your figure. Know your figure and consider the following –
Dresses for Slender Figures – If you're a tinier lady, a general rule is to highlight your body by wearing dresses that feature vertical lines. They'll make you look taller. Horizontal lines will do just the opposite. Also consider A-line dresses that accentuate you figure. Dresses with higher waistlines and lower necklines should be considered as well – factors that will make your body look fuller and perhaps a bit taller.
Dresses for Athletic Figures – If you're the type of girl who frequents the gym on a regular basis, chances are you may have a gymnast body. You likely have toned legs (show them off!) and a tight stomach. While you're definitely still feminine, having an athletic figure also means you probably don't have many curves to show off. To highlight your femininity, dresses that feature ruffles are always a great and safe route to go. Don't be afraid to highlight your collarbone area and accentuate your beautiful legs as well.
Dresses for Curvy Figures – A curvy body typically means you have that pear-shaped figure that so many women aim to have. Not only is it feminine, it shows off your curves. And while you may have one of the most beloved body types, it doesn't exactly mean you'll able to get away with just anything. Find a dress type that compliments your curves while fitting you proportionally elsewhere. Highlight your collarbones with lower necklines and look for pattern styles that don't take the spotlight off your curves.
Dresses for Fuller Figures – Having a full-figured body means you have some parts of your figure you'll want to accentuate while there are others you'll want to play down a bit more. You'll want to highlight your best features by considering a dress that has a V-line neck to highlight your collarbones and perhaps even a bit of cleavage. Also consider dresses that are banded in the waste – allowing you to accentuate the curves of your hips while tucking away your stomach area.