Winter in Minnesota is the perfect time for a DIY craft project at home. Hunkering down with your hot glue gun and some fun ideas to spruce up the old homestead is great when it's snowing like a banshee or too cold to enjoy the winter weather. This season, why not try something new and add some life to your old lampshades?
There's a world of expression that exists with something as simple as a lampshade, and a well-decorated one can be just as important as the light it brings to a room. No need to go out and spend an exorbitant amount of money on brand new lamps; fix up your old ones with a few simple ideas. Wondering how to decorate a lampshade on your own? Check out these ideas!
Fabric Covered Lampshade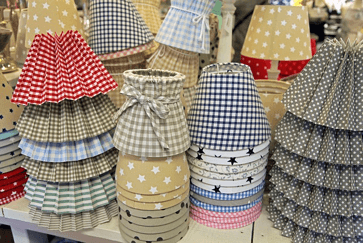 Lighting is a crucial component of any room, so the aesthetics matter. Especially if your current lampshade is a neutral color, covering it with colorful fabric is the perfect way to add a custom touch and some vibrancy to your space.
You'll Need:
Large work surface
Large sheet of paper
Scissors
Fabric of your choosing
Craft glue, fabric glue, or spray adhesive
To begin:
Place the lampshade on its side with the seam on one edge of the paper and trace the shape of both edges onto the paper, rolling the lampshade along the paper as you trace.
Cut out the paper pattern of the lampshade.
Place the fabric face down with the paper shape on top. Pin if necessary.
Cut out the fabric.
Place the pattern on the lampshade to check for shape, trim if needed.
Spray or cover the fabric with either glue or adhesive. Carefully lay the fabric and roll onto the shade, continuing to smooth along as you do so.
Voila! You have a brand new lampshade in just a few quick, easy steps!
To make your lampshade even more exciting, dress up the inside with an even spunkier fabric, using exactly the same steps as above.
Accented Lampshade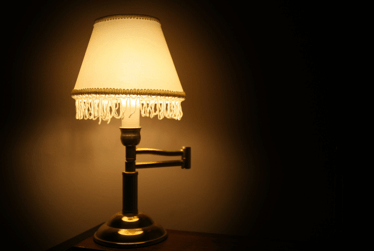 If your lampshade already has a cover that goes with your decor, adding a few accessories is a great way to liven things up.
Visit your local crafts store and pick up ribbon, buttons, beaded fringe, fabric paint, or even fabric dye. With basic sewing supplies on hand, you can add a new design, a stitching pattern or any number of accents to customize your lampshade.
You'll Need:
Glue or sewing materials
Your chosen accents
Match Your Lampshade To Your Wallpaper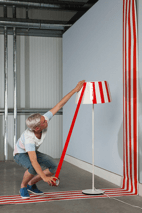 With this idea, you can spruce up an old lampshade and make use of extra wallpaper that would go to waste. You'll end up with a lampshade that looks as if it was custom-made by a professional designer.
You'll need:
Scissors
Extra wallpaper
Fabric glue
Simply follow the same steps you would use to make a fabric covered lampshade, but use your wallpaper materials instead of fabric. The end result is a gorgeous new lampshade coordinated to match your space!
Sweater Covered Lampshade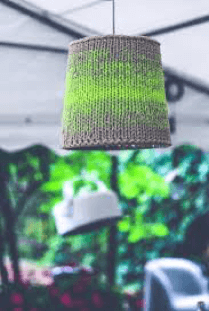 Covering a lampshade with an old sweater or knitted shirt is a low-cost decorating idea that ensures your clothing won't go to waste.
You'll need:
Old clothing item
Scissors
Hot glue
To begin:
Pull the waistline of the sweater over the lampshade down to the bottom edge.
Trim all excess material at the top, leaving roughly 1" over the top of the shade.
If your sweater is larger than your lampshade where it doesn't fit snugly, you can pull it tight, cut it to fit and glue along the seam.
Secure the sweater with hot glue.
The end result will be cozy and stunning at the same time!
For additional home furnishing techniques on a budget, such as ideas for creating holiday centerpieces or decorating a small bathroom, trust Turn Style to provide you with all the tips you've been looking for! And for all your budget-friendly furnishing needs, visit your local Turn Style to find everything on your list.