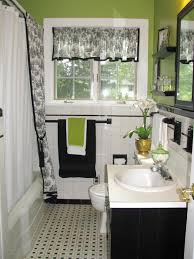 Redecorating your bathroom doesn't need to be constrained by small budgets or size. There are plenty of ideas for decorating a small bathroom that are perfect for those with tighter purse strings or square footage. With a few or all of the following tips, you can make your small water closet feel like a grand master bath.
Modest palettes with a pop of color
A typical rule of thumb with smaller spaces is to keep the color scheme neutral. But that doesn't mean you can't spice it up with a few bright colors! Use a bold paint color as an accent wall, or consider using neutral paint colors with brightly colored accents. A shower curtain, rug, towels, or other accessories can easily brighten up a small bathroom.
For more tips on using color like a pro, check out our blog on how to brighten up a dark space.
Creative storage
Storage in a small bathroom has to be creative in order to properly optimize the space. Depending on the style you wish to decorate in, choose from a set of drawers, a corner organizer, or even a set of baskets or tubs that can rest under the sink. Try taking advantage of vertical space by adding shelves or cupboards.
Another creative option is towel hooks; you can place them anywhere, they don't take up a lot of space, and they can be used to hold a variety of different items.
Strategic placement
One of the best ways to make a room seem larger is the strategic placement of an object that becomes the focal point in the room. For your small bathroom, you can use a unique mirror, a vanity, a window, or another fixture that draws attention.
You can also consider placing a mirror in just the right spot to reflect a print or another piece of art to create the illusion of more space.
Elements of opulence
If your color palette is neutral and you don't wish to use bright colors, consider using ornate accessories to create a more lavish design. Decorative mirrors or a larger piece of art can enhance a small space and pack a lot of visual appeal.
A small space with a small budget can make decorating seem like a challenge, but with the variety of options at Turn Style, you'll find what you're looking for at amazing prices! Don't let size get in the way — stop by your local Turn Style to find affordable decorating ideas for your bathroom today!