For those who don't know, Bastille Day – or French National Day – is the celebration and commemoration of the French Revolution in the late 1700s. Celebrated every July 14th, this holiday is a fantastic time to show your French pride, whether you are in fact French or not. Here are three fantastic French inspired outfit ideas to get you in the spirit!
Stripes!
If you're looking to hone in on a vibrant French fashion staple, you'll be reaching for stripes. Whether white and red or blue like the French flag, or black and white, stripes are forever the perfect choice on Bastille Day. For a festive look, pair a red and white striped shirt with a pair of skinny jeans, or a black and white striped blouse with a flowy, knee-length skirt.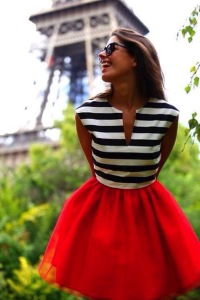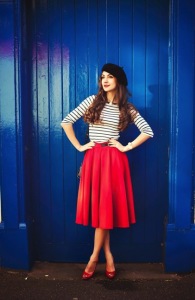 La Tour Eiffel
The iconic Parisian symbol, the Eiffel Tower, can be found on t-shirts, scarves, blouses, earrings, handbags, and necklaces – practically everywhere. Pair an Eiffel Tower shirt or blouse with chic espadrilles and cropped pants. C'est magnifique!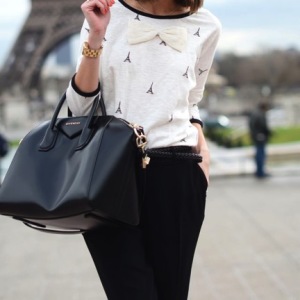 French Connection
When you think French of Parisian style, many think scarves, berets, and Chanel. Even if you don't have a complete outfit planned, adding French accessories to any outfit is a perfect way to celebrate. Whether adding a Chanel handbag to a black ensemble, or a beret to a casual white t-shirt, skinny jeans and ballet flats, you can easily channel the French with the subtlest of touches. Now, pour yourself a glass of red wine and celebrate!