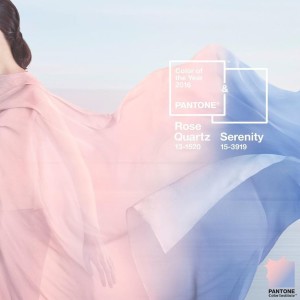 Just in time for the holiday shopping season, Pantone, the authority and influencer in all things color, has unveiled its shade of the upcoming year. Rose Quartz & Serenity is sure to be in during 2016. And if past years of color unveilings by Pantone serve as any proof, these shades will dominate everything from fashion & accessories, to the colors walls are painted.
It's the first time that Pantone has featured a combination of two shades. The company first started naming its color of the year in 1980.
"Joined together, Rose Quartz and Serenity demonstrate an inherent balance between a warmer embracing rose tone and the cooler tranquil blue, reflecting connection and wellness as well as a soothing sense of order and peace," commented Pantone on its website.
Pantone, meanwhile, showcased a number of color pairings the two shades go well with – noting they work with other mid-tones like shades of pink and yellow, rich browns, and greens and purples.
Our Take
Some great possibilities are available with these shades – especially if you make them shine. Take for example this outfit supermodel Kendall Jenner wore.
For ideas on accessorizing with these shades, check out Pantone's Pinterest page on Rose Quartz and Serenity.