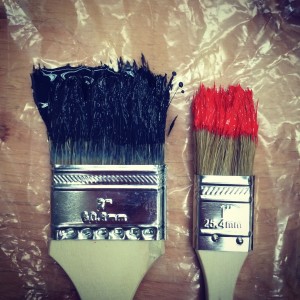 Summer has the tendency to reinvigorate our creative sides – making it the perfect time of year for home DIY projects. Below are some ideas to consider:
Paint Furniture
Finding furniture for an affordable price that matches the colors of your living space can be tough. Buying secondhand, meanwhile, is affordable and if the furniture is wooden (I.E. a coffee table or dresser), there's always the option of adding your own style through painting. How to do it: Sand, apply primer, then paint! Painting furniture also gives you the option of completing the task outside on those pretty summer days.
There are plenty of ways to craft a new headboard for your bed – a good idea, especially if you don't already have one. DIY headboards can either be attached to your frame, or simply against the wall. Some ideas: Paint and restore an old fireplace mantel, use ceiling tiles and attach them to the wall, construct your own from wood, paint your current headboard (or find an old one and paint it), paint a headboard shape onto the wall. For more inspiration, Apartment Therapy has some great ideas.
Hang wall-mount shelving
Not only is this one of the most cost effective ideas, it's relatively easy to get done. Wall-mount shelving can add new life into your home – helping it look more open, more organized, and definitely more stylistic.
There are some amazing ways to make your walls look great through stenciling. You can find stencil brushes, stencils, and paint all at your local home improvement and/or art stores (For some stencil inspiration, check out this post from Houzz).
Plastic wall frames are relatively affordable and still look great. You can hang whatever your heart desires. Here's an idea: I bought high quality printing paper, printed some images I really liked from the web, then framed & hung them up.