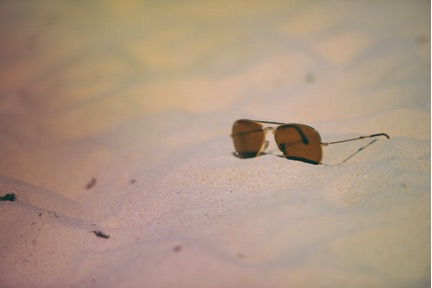 The perfect summer outfit is never complete without the right pair of shades. Whether you prefer a modern look, or more classic – never dated – style, you'll find a pair that speaks to you in the top five 2015 sunglasses trends for summer.
Colored & Mirrored
This summer it's all about bright, bold colors, and eyewear is no exception. From neon frames to electric-blue mirrored lenses, making a statement with your sunglasses is in. Not sure which pair goes best with your outfit? With this trend, you're pretty safe no matter what you choose, but as a general rule with any fashion choice, make sure the color of your shades complements the color of your outfit, rather than clashes.
Squared
If you're looking to add a fun, funky, geometric element to your outfit, reach for a pair of square sunglasses. A departure from your typical lens shape – these styles were seen popping up all over runways, with designers like Giorgio Armani and Tommy Hilfiger jumping on board. Available in all colors and prints, it's easier than ever to find a pair that matches any outfit.
Aviators
Who doesn't love a great pair of Aviators? This classic style will likely always be en-vogue, and we support that wholeheartedly. Whether you prefer black, brown, or mirrored lenses; silver or gold frames, you can always throw on a pair with a white t-shirt and jeans to create a laid-back look that will never go out of style.
Cat Eye
Everyone loves a good cat-eye, and no, we're not talking about your perfect winged eyeliner. Cat-eye sunglasses are making a bold, sexy statement across the globe. Designers like Michael Kors and Fendi have perfected the cat-eye this season, creating everything from an ultra-modern, geometric look, to a subdued, mischievous style. Grab a pair with your favorite little black dress and channel your inner Cat Woman.
Round/Retro
Arguably the hottest sunglasses of the season, round, retro sunglasses are absolutely everywhere. These sophisticated frames with either bold or subtle lenses take any outfit to the next level. Rock these with your favorite sundress or denim shorts and you're ready to take on anything.
Whether you love to make a statement with your accessories, or simply want to add the perfect finishing touch to your summer outfits while protecting your eyes from the sun's rays, sticking to these 2015 trends will have you looking stylish all season long.